I suppose I'll start by explaining what Turntable was. Turnatble.fm was an online music player with a twist — you got to listen to music with friends. The site was divided into user-created rooms. In each room, users could take turns picking songs on a virtual DJ table. You could play songs from Turntable's built-in database or upload your own mp3's.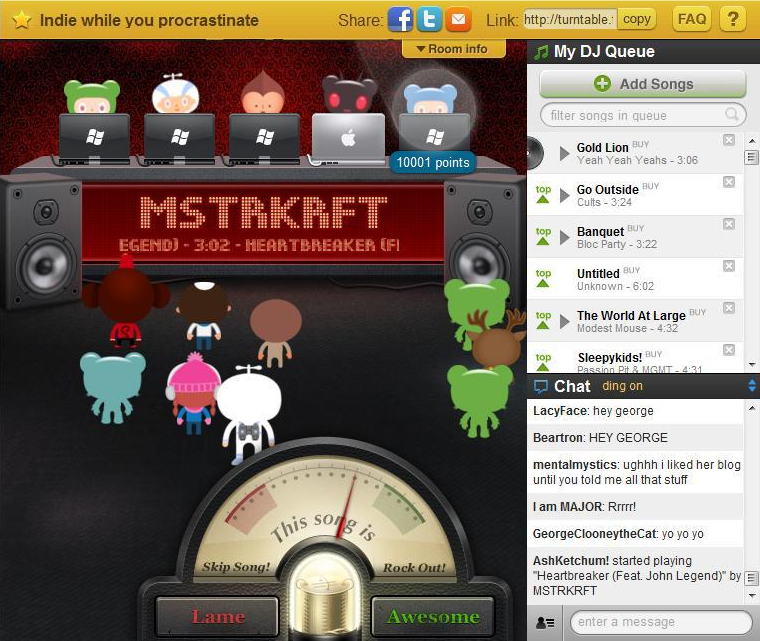 Turntable was one of the first services to take online music listening and make it truly social. Friends could gather each day, play the new fresh tracks they discovered, and talk about them in the chat box. Throughout Turntable's lifetime (a little over two years) I've met a large number of wonderful people that have turned me onto some pretty fantastic music — music that I probably never would have discovered on my own.
After a very successful summer in 2011, Turntable began to start losing users. This was perhaps because people were realizing that Turntable was too addictive and too time-consuming. As time went on, more and more of Turntable's core users began to fade away — many of them upset that Turntable was ignoring their community's requests (example: once upon a time users wanted multiple playlists, Turntable gave them virtual laptop stickers).
Let's fast-forward to the end of 2013. Turntable decided that they didn't have enough funds to continue their online DJing service, and planned to shut down turnatble.fm on December 2, 2013 (today) to focus on a new service that is geared towards streaming live performances filmed in front of a green screen.
With Turntable out of the picture, I'm left to choose an alternative from a pile of pretty incomparable services. There's plug.dj, which copies Turntable's main functionality, but has an ugly Club Penguin-ish user interface. There is also Soundrop, a Spotify app that lets users create listening rooms and vote for the next song via a Reddit-ish voting system, but that limits song choices to only that which is in Spotify's database.
While I haven't quite decided if/how I'll replace Turntable in my life, many of Turntable's active rooms have chosen services to relocate to. The master list of Turntable room re-locations can be found here.
So farewell to Turntable, and thanks to the Turntable community for the killer tunes over the years !